Chocolate pudding
Ingredients
1 liter
soy milk
1/2 teaspoon salt
2 tablespoon sugar
100 g corn starch
150 g dark chocolate
1/2 teaspoon vanilla extract, or too taste
Servings: 6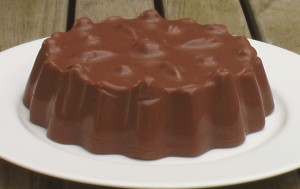 Recipe directions
This chocolate pudding recipe gives a very thick pudding which will keep its form when turned out of the mould. If you like a more liquid pudding use 60 g corn starch instead of 100 g.
Add the corn starch to about 200 ml soy milk and mix to get a smooth slurry.
In the meantime bring the remaining 800 ml soy milk to boil. Add the sugar. When boiling slowly add the starch mixture, while stirring constantly. Continue to boil for a minute. Remove from heat, add the chocolate and salt and stir until the chocolate is dissolved.
Moisten the inside of a pudding mould with water. This step insures that the pudding will come out of the mould smoothly. Poor the chocolate pudding in the mould and let it cool down. Turn the pudding out of the mould on a serving plate.
Serve the chocolate pudding as such or with some brown sugar.
Chocolate facts
Everybody likes chocolate because of its melt-in-the-mouth consistency. Some people even crave chocolate as it contains some chemicals, such as anandamide and phenylethylamine, which creates a soothing effect on the brain. Eating chocolate releases endorphins, which act as pain reliever, in our brain. Chocolate does not cause acne. Dark chocolate is more healthier than milk chocolate.
These are some levels of nutrients in 100 g dark chocolate: 5.3 g protein, 397 mg potassium, 63 mg calcium and 3.2 mg iron. Chocolate also contains some vitamins and large amounts of antioxidant polyphenols, which can help to prevent oxidative damage to our cells and reduces the risk of heart disease and cancer.
Comments