What is soy milk?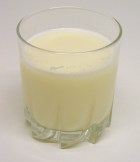 Soy milk is made by soaking soybeans, grinding them with water. The fluid which results after straining is called soy milk. You can make soy milk at home with basic kitchen tools or with a soy milk machine. Soy milk is most commonly found in aseptic cartons. Most of the soy milk available in the market is flavoured and fortified with extra calcium or vitamins. The most popular flavours are vanilla and chocolate. Some producers add thickeners to their soy milk to give it a mouth feel of cow's milk. Traditionally, soy milk has a beany taste which is well accepted by the Chinese, but less by the Western palate. By using correct processing techniques, this beany taste can be reduced or eliminated. Recently, with the recognition of its health benefits and with its improved flavor and texture, soy milk has now a high and rising acceptance.
Sometimes, use is made of protein isolates from soy bean which are mixed with water, oils, sugars, stabilisers to give it a milky appearance. This type of product is not as wholesome as real soy milk. In Europe, legislation prohibits soy milk manaufacturers to label their product as soy milk. Often they use the denomination
soy drink
.
Making your own soy milk
In China and Japan fresh soy milk is made daily using a simple, centuries-old process of grinding soaked soybeans and pressing the soy milk out of the beans. There, soy milk is sold by street vendors or in cafes. Soy milk is served hot or cold and is often flavored with soy sauce and vegetables to produce a spicy soup. Many people find the cost of commercial soymilk to be prohibitive and
make soy milk
at home. They soak and crush soy beans and filter the liquid, which is soy milk. Some have invested in a soy milk machine that cooks and grinds the soy beans and makes soy milk, fresh in your own home. There are different brands of soy milk machines on the market (Miracle Soy Wonder, SoyJoy Automatic Soy Milk Maker, SoyToy Soy Milk Machine, Soyapower). You don't need these machines to make good quality soy milk, but they make life easier and give a high yield.
Nutritional values of soy milk
Plain soy milk is very nutritive: it's an excellent source of high quality proteins, isoflavones and B-vitamins. Soy milk is free of the milk sugar (lactose) and is a good choice for people who are lactose intolerant. Also, it is a good alternative to those who are allergic the proteins of cow's milk.
Comments