Soy Topping Cream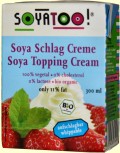 Brand: Soyatoo!
Score:





Content: 300 ml
Evaluation
The taste of Soyatoo topping cream is nice, but a bit too sweet. Nice vanilla aroma. After whipping the volume doubles (1 package makes 600 ml whipped cream). The whipped cream is also very stable. After 24 hours in the fridge the volume remained unchanged.
Nutrition values
Per 100 ml: energy: 155 kcal, protein: 1.6 g, carbohydrates: 12.3 g, fat: 11 g.
Remarks
This topping cream is 100% vegetarian and organic. Soyatoo topping cream can be stored at room temperature but should be whipped when cold. This topping cream can be used to decorate desserts, cakes and fruit salads. This topping cream contains only 11% fat, which is also of plant origin. Normal dairy cream contains 30% to 40% animal fat.
Ingredients
Soy milk (water, soybeans) (74%), coconut fat (5%), vegetable fat (5%), sugar-beet syrup, corn maltodextrine, tartaric acid, thickener: seaweed extracts, sea salt, natural vanilla flavour.
Comments