Chocolate Soy Protein Shake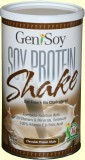 Brand: Genisoy
Score:





Content: 630 g (22.2 oz)
Price: 13.29 USD (Drugstore.com)
Evaluation
The taste of this Genisoy Chocolate Soy Protein Shake is nice, even when dissolved in plain water. The flavour is typical chocolate. Mixing it with commercial soy milk gives a very smooth, rich and nice tasting protein shake. It is also possible to dissolve the soy protein powder in the liquid by stirring vigorously with a fork.
Label info
Directions: For best result adds 1 scoop of powder to 8 oz of protein fortified non-fat milk and mix in an electric blender or in a shaker. This soy protein powder can also be mixed with water or other beverage of choice. Genisoy soy protein shake makes it easy to include 25 g a day of soy protein in your diet. The FDA has concluded that 25 g per day of soy protein as part of a diet low in saturated fat and cholesterol may reduce the risk of heart disease.
Nutrition values
Per 100 g: energy: 343 kcal, protein: 40 g, carbohydrates: 49 g, fat: 0 g, fiber: 5.7 g.
Ingredients
Isolated soy protein, fructose, Dutch processed cacao, guar gum, natural flavour, cellulose gum, canola oil, maltodextrine, minerals (tricalcium phosphate, potassium chloride, magnesium oxide, ferrous fumarate, zinc oxide, copper gluconate, selenomethionine, potassium iodide) and vitamins (E, B1, B2, B3, B5, B6, B12, folic acid and biotin)
Comments