Natural Fresh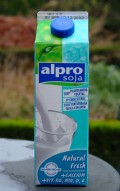 Brand: Alpro
Score:





Content: 1 lt
Evaluation
Natural Fresh soy milk has a nice and fresh neutral taste, with a slighly bitter after taste. This soy milk has a very light colour.
Nutrition values
Per 100 ml soy milk: energy: 42 kcal, protein: 3.3 g, carbohydrates: 2.8 g, fat: 1.9 g, fiber: 0.3 g, calcium: 140 mg.
Remarks
This soy milk is the close to cow's milk regarding taste and nutritional values. Natural Fresh soy milk can be used in kitchen as replacement for cow's milk.
Ingredients
Water, soya beans (6,4%), raw cane sugar, tri-calcium phosphate, sea salt, flavour, vitamins (E, B2 and B12).
Comments