Soy ice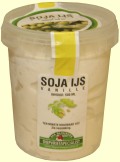 Brand: Van Rijsingen
Score:





Content: 500 ml
Price: 1.99 ? (Jumbo, Breda)
Evaluation
This is a very nice soy ice with typical butter and vanilla flavour. Texture is very creamy and smooth. This soy ice does not remind to soy because of the absence of beany taste and absence of dry after taste.
Remarks
This soy ice can be spooned directly out of freezer. There are no nutritional values mentioned on label. It is not clear what is meant with soy powder. Is this soy protein?
Ingredients
Glucose-agave syrup, vegetable fat (coconut), maltodextrin, soybean powder (4%), emulsifier: soy lecithin, thickeners: locust bean gum and guar gum, natural vanilla flavour.
Comments