Chocolate Temptation Bar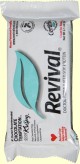 Brand: Revival
Score:





Content: 15 x 60g bars
Price: 32.95 USD (Drugstore.com)
Evaluation
This Revival protein bar has a very sweet, chocolate and caramel taste. This soy protein bar has no soybean taste. The after taste is a bit bitter. It has a subtle (not very strong) chocolate aroma. The texture is at the same time crispy and chewy, which is very nice.
Label info
1 Revival
soy protein
bar contains as much soy protein as 6 cups of soymilk, including 160 mg soy isoflavones and 1000 mg soy saponins. 25 g of soy protein, with a diet low in saturated fat and cholesterol may reduce the risk of heart disease. A patented natural concentration process allows to use a blend of an isoflavone rich portion (from the centre of the beans where the soy isoflavones are concentrated) with a separate protein rich portion.
Nutrition values
Per 100 g: energy: 367 kcal, protein: 16 g, carbohydrates: 30 g, fat: 3.5 g, calcium: 40 mg.
Remarks
This soy protein bar is free from lactose, peanuts, gluten, yeast or egg. It is not suitable for vegetarians (contains gelatine). Producer claims that Revival soy bars have a low glycemic index and that it contains certified isoflavones levels.
Ingredients
Soy protein blend (soy isolate, rice flour, malt, salt, soy concentrate), marshmallows (corn syrup, sugar, corn starch, water, gelatin, artificial flavour), glycerin, chocolate chips (sugar, chocolate liquor, cacao butter, soy lecithin and natural flavour), high oleic sunflower oil, cacao powder, natural and artificial flavours, salt and soy lecithin.
Comments