Ecomil Instant Soymilk Powder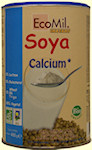 Brand: Ecomil
Score:





Content: 400 g
Evaluation
This
soymilk powder
dissolves easily, although it tends to separate after a while. The taste is rather watery and like cooked rice, with a bit of vanilla. Maybe it is missing a dash of salt, but that you can add that yourself, of course.
Label info
How to use: dissolve 2 to 3 tablespoon soymilk powder in a glass of cold or hot water, according to taste. Or 13 g of soymilk powder for 100 ml of water. I can also be used in coking or baking. Keep in a cool and dry place. Consume within 2 months after opening.
Nutrition values
Per 100 g: energy: 405 kcal, protein: 16.8 g, carbohydrates: 65 g, fat: 8.6 g, fiber: 2.5 g, calcium: 600 mg.
Remarks
Gluten-free, wheat-free. Organic.
Ingredients
Soya (44%), corn maltodextrin, corn syrup, fructose, calcareous marine algae: Lithothamnium calcareum, natural vanilla flavour.
Comments