+1 Complete Care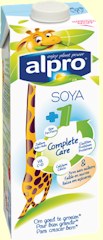 Brand: Alpro
Score:





Content: 1000 ml
Evaluation
Tastes and smells of vanilla. Children like it. Compared to Olvarit Alpro Drink +1 Complete Care is less watery and fuller.
Label info
Alpro soya +1 is a 100% plant-based soya alternative to milk that is nutritionally tailored for your toddler from 1 year onwards. It provides toddlers with key nutrients needed for a normal growth and development : calcium, vitamin D, protein and iodine for normal growth and iron for the brain. On top of that, it is low in sugars! Can be served hot or cold and used in all cooking applicas.
Nutrition values
Per 100 ml: energy: 64 kcal, protein: 2.5 g, carbohydrates: 8.3 g, fat: 2.2 g, fiber: 0.4 g, calcium: 120 mg.
Ingredients
Water, Maltodextrin, Hulled soya beans (4,9%), Raw cane sugar, Fructose, Sunflower oil, Calcium (Calcium carbonate), Acidity regulator (Monopotassium phosphate), Flavourings, Vitamins (C, Riboflavin (B2), B12, D2), Emulsifier (Sunflower lecithin), Stabiliser (Gellan gum), Iron pyrophosphate, Potasium Iodide
Comments