Banana Drink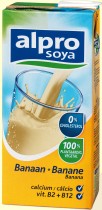 Brand: Alpro
Score:





Content: 1 liter
Evaluation
Typical but rather artificial banana flavour. Could use some more real banana juice. More a taste for children.
Nutrition values
Per 100 ml: energy: 82 kcal, protein: 3.8 g, carbohydrates: 11.6 g, fat: 2.3 g, fiber: 1.2 g, calcium: 120 mg.
Remarks
With calcium and vitamin B2 and B12. Also available in 250ml.
Ingredients
Water, raw cane sugar, peeled
soybeans
(6,4%), banana juice (1,2%) from concentrated banana juice, flavour, calcium carbonate, sea salt, acidity regulator: potassium phosphate, vitamin B2 and B12, gellan gum
Comments