What is tempeh?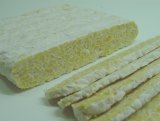 Tempeh has grown so much in popularity that it is now available in the refrigerated section of many supermarkets. Of course, you can also find it in health food stores oriental shops. Tempeh originated from Indonesia, where it is still an important food. Tempeh is cake of soybeans, which have been de-hulled, cooked, mixed with a tempeh starter (culture of
Rhizopus oligosporus
or
Rhizopus oryzae
) and incubated for a day or two. The white mycelium of the Rhizopus mold keeps the soybeans together to form a solid cake, which you can easily sliced.
In Indonesia, tempeh is traditionally made from soy beans only, but in Western countries you can find tempeh made from other ingredients, such as vegetables, grains or other beans. Since tempeh is made from whole soybeans, it is a fiber-rich food. Tempeh is a rich source of proteins, minerals, soy isoflavones (53 mg isoflavones per 100g) and saponins. It is also a generous source of nutrients such as calcium, B-vitamins and iron. In addition, tempeh is a good source of monounsaturated fats and contains no cholesterol. The natural tempeh fermentation process also makes the soya more digestible. Good website with more information about
tempeh
.
Easy to make at home
It is very easy to make tempeh at home. If you like gardening (planting seeds, watching them growing and harvesting) you can achieve this process in only a few days! You will notice a big difference between homemade tempeh and store-bought tempeh: it tastes and smells a lot better. Fresh homemade tempeh smells like mushrooms, but after a few days storage in the fridge, the smell becomes a bit chemical. During tempeh production, you must add some acid, such as acetic acid, to the soybeans to prevent the growth of spoilage bacteria. In Indonesia, tempeh makers do not add this acid but let the soybeans acidify naturally in the soaking water.
Versatile ingredient
Tempeh has a tender chewy consistency that makes it an excellent addition to a variety of foods. The easiest way to prepare tempeh is to bake marinated slices of tempeh in a pan with of oil, until they becomes crisp and golden-brown. Tempeh is also delicious on the grill: first steam the tempeh cubes and marinate them in a barbecue sauce and then grill them until browned. You can add chunks of tempeh to spaghetti sauce or chilli mix or to your favourite soups and casseroles.
Comments