Miso and nettle soup
Ingredients
1 liter water
2 medium carrots, chopped
1 medium onion, chopped
1 leek, cut in 1 cm rings
2 Tbs tapioca
2 Tbs miso, dissolved in a bit of water
4 Tbs nettle leaves finely chopped

Servings: 6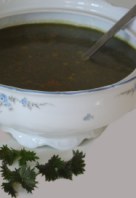 Recipe directions
The nettle tops should be harvested early in spring when they are still very small (about 5 cm). Only use the small unfolded top leaves.
Put carrots, onion, leek and tapioca in water. Bring to a boil, reduce heat to medium-low and simmer for about 30 min until tapioca is clear and soup is slightly thickened. Stir from time to time to prevent the tapioca from burning. Add the miso and mix to dissolve.
Add the chopped nettle leaves and only bring to boiling point. Don't boil to preserve the vitamins.
Serve the
miso soup
immediately.
Comments