Gluten free soy sauce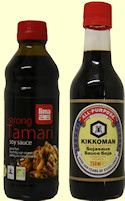 Some of our family members are gluten intolerant, but can consume soy sauce made with wheat without any problems. Although some soy sauces are not wheat free, the gluten seem to be no longer present in the final soy sauce. There are two processes to make soy sauce: chemical hydrolysis and natural fermentation. Both processes will break down the complex proteins including gluten into smaller components such as amino acids and polypeptides. You should only buy naturally fermented (or brewed) soy sauce because of its authenticity and rich taste. Chemically produced (or artificial) soy sauce is used more widely because it is a lot cheaper, but may contain toxic and carcinogenic components produced by hydrochloric acid hydrolysis. Therefore, we only consider naturally brewed soy sauce further in this article.
What do soy sauce producers say?
The website of Kikkoman does not mention any word about the presence of gluten in its soy sauce. We found one letter dated February 4, 2005 from Kikkoman stating: "So far, no physiological data is available to show whether soy sauce could cause Celiac disease. Also, there is no officially approved or recommended method for its evaluation. However, again, it is helpful to compare the level of remaining wheat gluten and its fragments with the provisional value of gluten considered by Codex Alimentarius for foods rendered gluten-free (200 µg/ml). Given the above, although soy sauce uses soybeans and wheat as basic ingredients, any soybean protein or wheat gluten, found in soy sauce are below the limits of detection as of the data this is written."
And what does Lima Foods, a pioneer in the introduction of naturally fermented soy sauce in Europe, tell about their soy sauce? They don't say anything about gluten in their Shoyu soy sauce, which is made with wheat, but do mention that their wheat-free soy sauce, Tamari, contains no detectable amount of gluten.
Gluten analysis of two popular soy sauces
We sent a sample of soy sauce of the brands Kikkoman and Lima to an external laboratory to determine gluten levels. In both samples the gluten content was below detection limit of 5ppm (see
report
). According to a new European legislation, which will only be fully implemented in 2012, gluten-free foodstuffs should contain less than 20 ppm gluten. The FDA also proposes a limit of 20 ppm. This means that our two tested products may be considered as gluten-free soy sauce.
Conclusion
The tested naturally fermented soy sauces are gluten-free and will probably not cause adverse reaction in gluten sensitive persons, especially when considering the small daily quantities of soy sauce used. Highly sensitive individuals who want to be 100% sure should use soy sauce which are advertised as gluten-free and which do not contain grains as ingredients. Tamari soy sauces are typically produced without wheat, but some brands do not follow this tradition and are not wheat-free.
Comments