Soy Jerky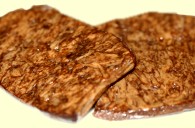 Soy jurky is a meat substitute made with
textured soy protein
. The main target for meat substitutes are vegetarians and vegans. However, most of them believe that meat products are not essential and even unhealthy and do not want to eat meat substitutes. Why would you replace something you don't need in the first place? Up to now, we have not found soy jerky in European shops.
Evaluation of Jen Jerky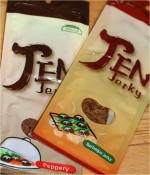 We had the opportunity to taste samples of soy jerky at the 2007 Anuga Food Exhibit at Cologne. The Taiwanese company Hung Yang Foods presented several meat substitutes made with textured soy protein. The aim of this company is to make vegetarian products with identical structure of real meat products. Like real meat, it has flexibility, elasticity and ductility. They make their products by extruding soy protein with other ingredients and moulding it in different shapes.Only the structure of this soy jerky reminds of meat. We find the taste not very typical and far too sweet. Maybe that is how the Asian prefer their beef jerk? This product is also very greasy on the outside: after eating it your hands become very greasy! We believe that such products will never become a big success in Europe and that it will be impossible to fool meat eaters with it. This is the ingredient list of the peppery variant: non-gmo isolated soy protein, water, cane sugar, naturally brewed soy sauce, sea salt, black pepper, natural vegetarian spices. Nutritional values per 100g: 16g fat, 2g fiber, 1g sodium, 8g sugar and 25g protein.
Comments