Soy ink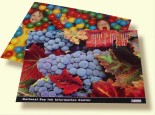 Soybean oil, also known as vegetable oil, is mainly used for human consumption. Soybean oil can also be used a a carrier for printing inks. For the production of soy ink, the soybean oil does not need to be as refined that much. The soybean oil is blended with pigments, resins and waxes to make ink. The volume for soybean oil in the ink varies between manufacturers and is dependent on the application of the ink. Soybean ink is not eatable because it contains the same pigments found in conventional petroleum-based inks. This and certain other chemicals make soy ink inedible and not 100 % biodegradable.
History of soy ink
In 1979, the board of directors of what they now call the Newspaper Association of America asked their technical staff to look for an alternative to the petroleum-based ink used by newspaper publishers. This was when petroleum prices were volatile due to problems with the OPEC countries and they wanted to work with resources that are more reliable.
After years of intensive tests on about 2000 different vegetable oil formulations researchers decided that ink based on soy oil was an excellent alternative. Soybean oil, the same non-toxic oil that we use as cooking oil, in salad dressings, mayonnaise and thousands of other foods is abundant, relatively inexpensive and exceeds all the technical demands. In 1987 after some refinements, they found a manufacturer who was prepared to produce it. The Gazette from Iowa put it to a practical test and it proved to be very satisfactory.
Today, one-third of America's nearly 10.000 newspaper printers use it. More than 90% of the nation's daily newspapers are printed with color soy ink. Most newspapers use soy ink for color printing because its price is comparable with that of conventional color ink and it has many advantages: its superior performance, its environmental friendliness and its vibrant colors. Black soy ink is about 25 % more expensive than petroleum based inks but some printers report that they need less ink for more papers.
Because of customer demands for soybean oil-based formulations for other kinds of ink, manufacturers made extensive efforts to develop other products. Very well established in America soy ink starts to gain importance overseas as well. There has been tremendous expansion in Asia, especially in Korea, Japan and Taiwan. The use of soy ink is also growing in Europe and Australia.
Comments