Soy candle making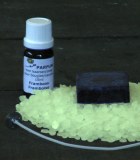 Container soy candles are the easiest of all candles to make. Making a soy candle is a process of combing wax with dye and fragrance. Making your own
soy candles
is a very satisfying hobby.
You will discover that it is easier to make soy candles then paraffin candles. Soy wax cleans up easily with soap and water. You can safely put your utensils in the dishwasher.
Materials to make soy candles can be bought on the internet or in local hobby shops. We will explain how to make step-by-step your own soy candles.
Materials to make soy candles
Following material are required for making soy candles:
1 pound of soy wax
1 mason jar
1 ounce of fragrance oil
Wax dye
1 cotton wick, for example HTP-105
Soy wax can be found in block and in flake form. The flake form is easier to use. Using your own mix of fragrances is the secret to make your own special scented soy candles.
These fragrances are available at different places. When buying fragrances, make sure that they are compatible with soy wax. On average you will need one 1 fl ounce of fragrance oil to scent 16 ounces of soy wax.
Dyes come in a different forms. There are dye blocks which made of wax and can be melted with you soy wax. Other forms are concentrated liquids and dye chips.
For de soy candle with a bigger diameter you need a thicker wick. The easiest to use are wicks, which are attached to a metal disc. There are many types of containers, which you can use. You can use a simple Jason jar if you like a country look. Containers for soy candles should be clean, dry and at room temperature. Theres is no need to preheat the container.
Making your soy candles
Put the soy wax in a pan and slowly heat on medium fire until the soy wax is completely melted. Remove from heat. Add the fragrance oil and stir until all the fragrance oil is absorbed in the soy wax. Optionally you can add wax dye according to instructions on label.
Pour the melted soy wax gentle in the jar and position the wick in the center. Use a clothespin or pencil to keep your wick in the center. When the wax has turned solid you can trim the wick to 1/2 inch.
Burn your soy candle and enjoy it!
Comments