Scented soy candles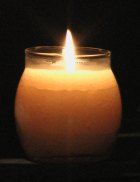 Aromatherapy exists since the beginning of civilisation. Aromatherapy uses essential oils extracted from aromatic plants to enhance health and beauty.
These essential oils are also used to in scented soy candles. When making your own candle it is also possible to add essential oil. These essential oils are made up of alcohols, aldehydes, phenols, ketones, terpenes, sesquiterpenes, ethers and esters. The odors released by scented soy candles will have an impact on how you feel. Burning scented soy candles can exert specific effects on the mind and body. Candles scented with lavender oil will increase the alpha waves in your brain, which will cause you to relax.
Effects of soy candles scented with different types of essential oils:
Basil will promote alertness, concentration and will create a positive attitude. Basil scent will stimulate your nervous system, relieves migraines and help digestion.

Eucalyptus will relieve chest problems including asthma, coughs, sinusitis, pneumonia and bronchitis. Eucalyptus is an important remedy for the treatment of rheumatism and arthritis. The eucalyptus scent will also repel insects.
Jasmine is the most uplifting of all essential oils. Jasmine scent is a very relaxing and anti depressant and is very useful for calming tension. Jasmine stimulates your alertness, builds energy and helps to activate the immune system.
Lavender scent will help to relieve headaches, insomnia and can be used when you have problems with anxiety, depression and motion sickness.
Lemon is well known for its stimulating effect. The Japanese employers use lemon scent to improve the productivity of their workers. Next time you have to concentrate or study burn a lemon scented soy candle! Lemon scent also helps to repel insects.
Orange blossom will help against insomnia, depression and anxiety.
Rosemary is effective in arthritis, bronchitis and colds. Rosemary scent has a placid effect on the nervous system and brings clarity of thought.
Vanilla scent is appreciated by most people. Vanilla scented candles are the perfect background for entertaining or any time you want a mellow, relaxing atmosphere.
Comments