Vanilla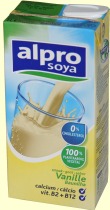 Brand: Alpro Soya
Score:





Content: 1 liter
Price: 1,59€ (Carrefour)
Evaluation
Alpro vanilla soy milk taste rather sweet with a very intense vanilla flavour. Actually it tastes like molten vanilla ice-cream. It has more calories than other soy milks. The yellow colour comes from the added carrot extract.
Label info
As part of a balanced and varied diet,
soy proteins
helps to reduce blood cholesterol. Scientific studies have shown that the consumption of 25 g soy proteins per day reduces blood cholesterol (Joint Health Claim Initiative UK 2002).
Nutrition values
Per 100 ml: energy: 62 kcal, protein: 3.3 g, carbohydrates: 7.9 g, fat: 1.8 g, fiber: 0.6 g, calcium: 120 mg.
Remarks
Enriched with calcium and vitamins (B2 and B12). The added minerals and vitamins represent 15 percent of the daily requirements per 100 ml vanilla soy milk. Suitable for vegans and vegetarians. Also available as 250ml.
Ingredients
Water, pealed soybeans (6.4%), raw cane sugar, sucrose, calcium carbonate, flavours, sea salt, acidity regulator: mono-potassium phosphate, stabilizer: gellan gum, carrot extract, vitamins B2 and B12.
Comments