Vanilla Soymilk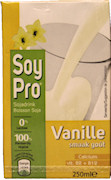 Brand: SoyPro
Score:





Content: 3x250ml
Price: 0,99 EUR
Evaluation
Despite its low price, this product is very good. The taste is slightly sweet (contains 6.8% sugar), but that's to be expected for soy milk with a vanilla flavor. The beautiful yellow color comes from natural beta-carotene of carrots, which of course is better than artificial coloring.
Label info
100% vegetable, 0% lactose, with added calcium and vitamins.
Nutrition values
Per 100 ml: energy: 57 kcal, protein: 3 g, carbohydrates: 6.9 g, fat: 1.8 g, fiber: 0.5 g, calcium: 120 mg.
Remarks
This vanilla flavored soy milk is on sale in Aldiand is produced in France by Sojinal.
Ingredients
Water, soybeans (5.8%), sugar, calcium carbonate, sea salt, acidity regulator (mono potassium phosphate), flavoring, stabilizer (gellan gum), carrot extract, vitamins (vitamin B2, vitamin B12).
Comments