SoyPro Choco Soymilk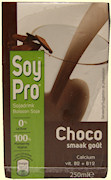 Brand: SoyPro
Score:





Content: 3x250ml
Price: 0,99 EUR (Aldi)
Evaluation
This chocolate flavored soy milk is of good quality. Compared to that of Alpro this soymilk has a weaker chocolate taste and lighter color, probably because there is less cocoa used (cheaper!). This drink is less suited for dark chocolate lovers.
Label info
With added calcium and vitamins. 100% vegetable, 0% lactose.
Nutrition values
Per 100 ml: energy: 66 kcal, protein: 3 g, carbohydrates: 9.8 g, fat: 1.6 g, fiber: 0.4 g, calcium: 120 mg.
Ingredients
Water, sugar, hulled soya beans (5.7%), skimmed cocoa (1.3%), calcium carbonate, flavor, salt, acidity regulator (monopotassium phosphate), stabilizer (carrageenan), vitamins (vitamin B2, vitamin B12).
Comments