Zesty Barbeque Soy Nuts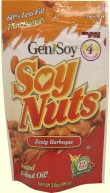 Brand: GeniSoy
Score:





Content: 100g (3.5oz)
Price: 1,59 USD (Vitacost.com)
Evaluation
These soy nuts are very crunchy and taste nice: not greasy, not too salty and with delicate "barbeque" flavour. The typical soybean flavour is also present. These soy nuts are a lot smaller than roasted peanuts.
Label info
These
soy nuts
are roasted without oil and contain 60% less fat than peanuts. These soy nuts are good for you and tasty too. GeniSoy Roasted Premium Soy Nuts are roasted to perfection in our state-of-the-art gourmet ovens to ensure the freshest flavour and highest quality every time. GeniSoy makes it easy to include 25 grams a day of soy protein in your diet. All GeniSoy products are made from soybeans processed.
Nutrition values
Per 100 g: energy: 428 kcal, protein: 42.8 g, carbohydrates: 32.1 g, fat: 14 g, fiber: 17.9 g.
Ingredients
IP roasted soybeans, seasoning (salt, fructose, dehydrated tomato, natural flavours, dehydrated onion and garlic, torula yeast, natural color: paprika and annatto, dried molasses, citric acid, autolyzed yeast extract), organic expeller pressed canola oil.
Comments