Soya Macchiato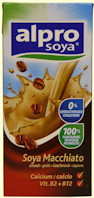 Brand: Alpro Soya
Score:





Content: 1 liter
Evaluation
We like this soya macchiato very much. It tastes very creamy and has a delicate coffee flavour. Even non-coffee drinkers will appreciate this soy drink.
Label info
Low in saturated fats. Contains all 8 essential amino acids. Source of calcium (15% RDA) and vitamins B2 and B12 (15% RDA). Easy digestible. Contains natural isoflavones. Contains no preservatives, artificial flavours, colouring or ingredients of animal origin. To prevent contamination with genetically modified organisms Alpro controls, together with the external organisation Cert ID, the production process from the farmer to the shop.
Nutrition values
Per 100 ml: energy: 71 kcal, protein: 3.3 g, carbohydrates: 10.3 g, fat: 1.8 g, fiber: 0.6 g, calcium: 120 mg.
Ingredients
Water, raw cane sugar, pealed soybeans (6.4%), maltodextrin, caramelized raw can sugar, coffee extract (0.5%), calcium carbonate, aroma, sea salt, acidity regulator: mono-potassium phosphate, stabilizer: gellan gum, vitamins B2 and B12
Comments