Vanilla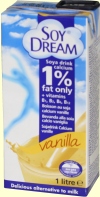 Brand: Soy Dream
Score:





Content: 1 liter
Price: 1.79
Evaluation
Colour is quite yellow for soymilk. Taste is very nice although a bit too sweet. Typical and strong vanilla flavour. No beany or dry aftertaste.
Nutrition values
Per 100 ml: energy: 39 kcal, protein: 1.5 g, carbohydrates: 5 g, fat: 1 g, calcium: 120 mg.
Remarks
Soy Dream is positioned as a smart and delicious alternative to milk. This
soy milk
contains no lactose, cholesterol or gluten. Made from non-GMO soybeans. Enriched with vitamins B.
Ingredients
Water, soybeans (5%), raw cane sugar, dextrose, inulin, calcium carbonate, calcium phosphate, sea salt, vanilla flavouring (0,1%), beta carotene, vitamins B (B1, B2, B6, B12, folic acid)
Comments