Bacon Soy Crisps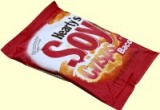 Brand: Hearty's
Score:





Content: 25g
Evaluation
These bacon soy chips have indeed a strong bacon taste and aroma. I do not think that vegetarians are looking for the typical bacon flavour but non-vegetarians will certainly enjoy this snack. These chips have a light and crisp feel, and a nice crunch. The colour is light yellow.
Label info
These bacon soy crisps contain 35% less fat and 14% less calories than potato crisps. These gourmet soy crisps are carefully prepared using non-GMO soy, and then flavoured without MSG to create the perfect lower fat and higher protein alternative to potato crisps. Another unique Hearty's snacking experience. These bacon soy chips contain cow's milk and wheat gluten.
Nutrition values
Per 100 g: energy: 46 kcal, protein: 24.4 g, carbohydrates: 38 g, fat: 24.3 g, fiber: 4.7 g.
Remarks
They mention that these soy crisps are not suitable for pregnant or breast feeding women. This remark is not on their soy nuts, which actually contain more soy protein.
Ingredients
Soy flour (40%), potato starch, vegetable oil, bacon flavour (dried vegetable fat, dried yeast, maltodextrine, dried yeast extract, sugar, potassium chloride, dried malt extract, dried cheese, citric acid), colour (paprika extract) and salt.
Comments