Chocolate Drink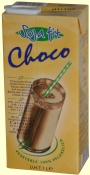 Brand: Soja Fit
Score:





Content: 1 liter
Price: 1.29€ ('t Centrum)
Evaluation
The flavour of this chocolate soy milk is very nice and typical. The taste is also very typical, maybe a bit too bitter for children.
Label info
Enriched with calcium. One portion of 200 ml contains 30 percent of the required daily allowance. Free from cholesterol and lactose.
Nutrition values
Per 100 ml: energy: 67 kcal, protein: 3.6 g, carbohydrates: 9 g, fat: 1.9 g, fiber: 1 g, calcium: 120 mg.
Remarks
This chocolate flavour soy milk is produced by a dairy (Inza). They claim that studies have shown that soy protein can help to lower cholesterol, something that cannot be said about dairy protein!
Ingredients
Water, pealed soybeans, sugar, dextrose, defatted cacao (1,3%), calcium carbonate, flavouring, salt, stabilizer: carrageenan, vitamin B2
Comments