Soya Vanilla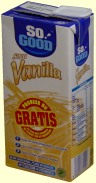 Brand: So Good
Score:





Content: 1 liter
Price: 1.79
Evaluation
Strong vanilla taste. No beany taste, therefore much appreciated by children. Watery and slight dry aftertaste.
Nutrition values
Per 100 ml: energy: 44 kcal, protein: 2.8 g, carbohydrates: 5 g, fat: 1.5 g, calcium: 137 mg.
Remarks
So Good Soya Vanilla is not real soy milk but is a drink based on soy proteins. Enriched with vitamins and calcium. Producer claims that product helps to reduce cholesterol, help to keep the hearth healthy and recommended for strong bones (each portion contains 1/3 of recommended daily dosage). Product is suitable for vegetarians and vegans.
Ingredients
Filtered water, maltodextrin,
soy protein
, rice malt sirup, sunflower oil, fructose, sucrose, flavours, acidity regulators (potassium citrate, potassium phosphate), calcium phosphate, stabilizers (carragenan), salt, zinc gluconate, niacin, riboflavin, vitamin A, thiamin, vitamin D, vitamin B12
Comments