Soya Chocolate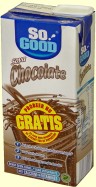 Brand: So Good
Score:





Content: 1 lt
Price: 1.79
Evaluation
So Good Soya Chocolate taste more like liquid custard because it is very thick. Taste and flavour is very nice and typical chocolate.
Nutrition values
Per 100 ml: energy: 71 kcal, protein: 3 g, carbohydrates: 7 g, fat: 1.7 g, calcium: 137 mg.
Remarks
The difference between So Good and other soy milk is that So Good is made from isolated soy proteins and not complete soybeans.
The producer (Solae) claims that regular use of So Good helps to reduce bad cholesterol. One portion of 250 ml So Good contains 7.5 g soy protein, which is about 33% of the daily required dose to be effective.
Ingredients
Filtered water, maltodextrin,
soy protein
(3%), sunflower oil, low fat cacao powder, stabilizers (modified starch, xanthan gum, carrageen), acidity regulators (potassium citrate, potassium phosphate), aroma, salt, calcium phosphate, zinc gluconate, vitamins (niacin, riboflavin, vitamin A, thiamin, vitamin D, vitamin B12)
Comments