Mocha Soymilk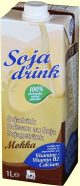 Brand: Delhaize
Score:





Content: 1 liter
Price: 1.39€ (Delhaize)
Evaluation
This Mocha soymilk has a typical and strong mocha (coffee) aroma. Taste is very creamy and rich. Colour looks like coffee with a lot of milk. This is an ideal product for those who like coffee taste.
Nutrition values
Per 100 ml: energy: 56 kcal, protein: 3.4 g, carbohydrates: 7.9 g, fat: 1.6 g, fiber: 1 g, calcium: 120 mg.
Remarks
This is first soy milk sold under the label of Delhaize in Belgium. A portion of 200 ml of the mocha soy milk contains 30 percent of the recommended daily allowance of calcium and vitamin B2.
Ingredients
Water, sojabonen (7,7%), suiker, oplosbare gerst (0,3%), gerstmout (0,3%), rogge (0,25%), cichorei (0,25%), calciumfosfaat, calciumcitraat, calciumcarbonaat, emulgatoren: enkel- en tweevoudige glycerine esters van vetzuren, aroma, vitaminen (B6, B2, B1, foliumzuur, E, D2 en B12)
Comments