Soy Drink Chocolate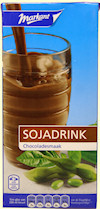 Brand: Markant
Score:





Content: 1 liter
Price: 1,29€ (EM-TE, Breda)
Evaluation
This soy drink is pretty good, tastes more like caramel/vanilla and less like cocoa. The mouth feel is thick and creamy, a bit similar to Cécémel. The color is a lot lighter than the picture suggests. The price of the private label brand soy drink is also good.
Label info
Contains no ingredients of animal origin. Low in saturated fats. Highly digestible. Source of calcium, vitamin B2 and vitamin B12. Contains naturally occurring isoflavones. As part of a balanced diet, soy protein helps in reducing cholesterol. Scientific studies have shown that the consumption of 25 grams of soy protein per day a decrease in cholesterol levels can be expected.
Nutrition values
Per 100 ml: energy: 67 kcal, protein: 3.3 g, carbohydrates: 8.6 g, fat: 1.8 g, fiber: 0.7 g, calcium: 120 mg.
Remarks
Markant is the own label brand of the EM-TE supermarket.
Ingredients
Water, sugar, soy beans (6,4%), cacao (1,3%), calciumcarbonate, zuurteregelaar: E452, zeezout, aroma, stabilisator: E418, vitaminen B2 en B12
Comments