Chocolate and Cereals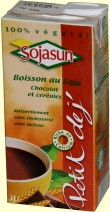 Brand: Sojasun
Score:





Content: 1 liter
Price: 2,20 ? (Cora, F)
Evaluation
This soy chocolate milk has a rather thick, but smooth texture. Thickness is probably coming from the cereals. Flavour is very typical and very nice. No soybeans or cereal taste is detectable.
Nutrition values
Per 100 ml: energy: 85 kcal, protein: 3.8 g, carbohydrates: 11.8 g, fat: 2.5 g, fiber: 1.5 g, calcium: 120 mg.
Remarks
Sojasun chocolate and ceral soy milk contains cereals and is positioned as breakfast drink. This chocolate soy milk contains no cholesterol and lactose and is suitable for vegetarians. It is made from non-GMO soybeans. The spring water which Sojasun uses for making the soy milk comes from a depth of more than 100 meter. This chocolate milk is enriched with vitamin E (15% RDA per 100 ml) and calcium (15% RDA per 100 ml).
Ingredients
Tonyu (spring water, whole soybeans 8%), sugar, chocolate 1,5%, cacao, cereals 1,4% (wheat syrup, oats and malt), calacium phosphate, chicory extract, thickeners: carrageenan, salt, flavours, vitamin E.
Comments