Chocolat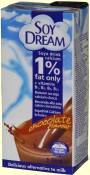 Brand: Soy Dream
Score:





Content: 1 liter
Price: 1.59€ (Super de Boer)
Evaluation
This Chocolate Soy Dream has a refreshing chocolate and vanilla taste. The texture is thin and taste is not too sweet, making this Soy Dream an ideal thirst quencher.
Nutrition values
Per 100 ml: energy: 56 kcal, protein: 1.9 g, carbohydrates: 9.8 g, fat: 1 g, fiber: 0.8 g, calcium: 120 mg.
Remarks
This Chocolate Soy Dream is positioned as alternative to milk. This chocolate flavoured soy milk is free of lactose, cholesterol and gluten. It provides the same level of essential calcium as dairy milk.
Ingredients
Water, soyabeans (5%), raw cane sugar, dextrose, cacao (1%), inulin, calcium carbonate, calcium phosphate, sea salt, flavouring, carrageen, vitamin B complex (B1, B2, B6, B12, folic acid)
Comments